Parental Controls for Android Phones
iKydz Wifi
Manage an unlimited amount of internet devices within your home.
Simply plug in to your existing router with no further installations to any of your devices. Control and manage internet access for every device connected to your home Wi-Fi, including phones, tablets, laptop's, smart TV's & games consoles.
iKydz Mobile
Manage your child's mobile internet wherever they are.
A digital download and simple installation to your child's Android or iOS phone. With our revolutionary tamper-proof solution, you can track location and manage your child's internet access on their mobile phone. Whether they're in the home or on the go.
iKydz Parental Controller App
Manage all connected devices from one easy to use app.
The simple and easy to use free companion app lets parents have total internet control of all connected devices on both iKydz Wifi & iKydz Mobile. Available on iOS & Android.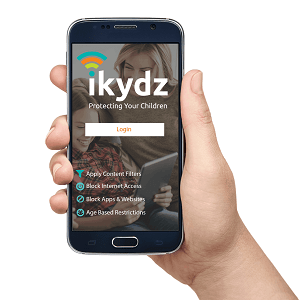 With iKydz award-winning internet controls you can:
• Filter content
• Schedule online access
• Block unsuitable websites and apps
• Apply restrictions to YouTube
• Block or manage access to social media channels, such as Facebook, Twitter, Instagram & Snapchat
• Block and manage online gaming such as Roblox and Fortnite